'A Sasquatch Mystery' begins here.
Speeding down the highway in my sports car, I fished into the depths of my coat pocket. I suspected Doyle to be a traitor, which meant I had to interrogate him face to face. I was going to give the Olilolo Headquarters.
I extracted Doyle's business card from my pocket and inspected it. The old cardboard was smudged with chocolate finger prints, which I suspected were Doyle's. He had forced this business card upon me months earlier, despite my repeated attempts to inform him that I would "never, ever use it".
It was obvious that he had designed the business card using a free template program, and that he'd sent it to the printer without proofreading.
I sped off the exit ramp to the suburb of Oliloloville. The enormous building known as the Olilolo Headquarters stood tall, eight blocks away. With the sun directly behind it, shining around the edges, it was a truly inspiring sight.
"A triumph of modern architecture," one reviewer had claimed. "But, located twenty miles from the central business district and surrounded by urban sprawl; completely and totally unnecessary."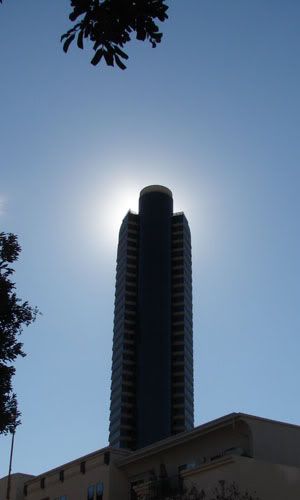 I parked opposite the entrance and stepped out of the car. Two security guards standing by the door eyed me suspiciously.
"I'm here to see Doyle," I announced as I approached them. "It's urgent."
"Do you have an appointment?" asked the chubbier of the pair, moving forwards to block my path. I raised my eyebrows in surprise.
"Do you know who I am?" I snarled. The man looked at his partner, bewildered. The second, less-chubby security guard also looked clueless.
"Damn it, man," I said, raising my arm and pulling back the sleeve of my coat to reveal a tattoo. Both of the men gasped, and took a step back.
"That's right," I said. "I've been branded. Perhaps you blokes have not received the memo yet, but I am Mauso elMaco, and I have recently been inducted into the Olilolo Sasquatches touch football team."
"We understand, Mister elMaco," replied the second security guard.
"Any man tattooed with the image of a sasquatch shall receive full security clearance," added the first. "Go right on in."
"Thank you," I replied, nodding with satisfaction. As I strolled through the doors and into the luxurious interior of the Olilolo Headquarters, the first security guard jogged after me.
"Wait, Mister elMaco!" he cried. I turned around to face the man, who was panting from this five metre dash.
He continued: "Mauso, sir… I have to ask… could I please have your autograph?"
* * *
The rooms were dimly lit in the top floor of the Olilolo Headquarters. I moved slowly down the main corridor, listening intently for any signs of life.
I smelt the familiar odour of stale alcohol permeating the air. A soft rattling could be heard in a room on my right, which I strongly suspected was Doyle's pet koala, having once again escaped its cage and now, most likely, tearing up the carpet in search of eucalyptus.
To confirm my suspicions, I tiptoed toward the room and pressed my ear to the door. A rhythmic scratch, scratch, scratch could be heard coming from within.
Sighing, I opened the door to find a creature curled up on the floor. The creature, however, was not a koala; it was in fact Doyle himself, scratching at the floor desperately.
"Doyle," I said, bending down beside him. "Are you… okay?"
"I need a fix," he moaned.
"Please, Doyle," I said, "put some pants on."
Sobbing quietly, he got to his feet and prowled the room. He foraged like a bear, for several minutes, before finding a suitable pair of trousers.
"Are those… women's trousers?" I asked in surprise.
"Maybe," he replied. "I really don't know anymore."
"They're pink," I stated. He looked down in surprise and observed his own clothing.
"Oh yes," he commented. "I guess they are."
Doyle shuffled over to the couch and collapsed in a heap, clearly exhausted. As he sat there clutching his stomach in pain, I knew it to be true: this man had not had a fix of chocolate in weeks.
If the Monsters had bought him out with chocolate, I'd have known it by now. Doyle was not the mole.
"I underestimated you, Doyle," I said, patting him on the back.
"Do you have any peanut butter chocolate?" he asked, looking up at me with red, bloodshot eyes.
"I thought you had sold us all out, but I was wrong," I continued. "You remained loyal to the Sasquatches."
"I'd do anything for chocolate…"
"You truly are a man of integrity." I held back a tear of pride. "A man of honour. A hero."
"… unspeakable things…"
As I departed from Doyle's 'office', I noticed three naked women sleeping peacefully on a mattress in the corner of the room. One of them was his wife.
* * *
"Abacus," I said, pressing the cell phone to my ear as I exited the building, "Doyle is not the mole! Repeat: Doyle is not the mole."
"Please, Mister Mauso," puffed the security guard, once again jogging after me as I strode towards my car. "Can I please speak to-"
I continued walking, ignoring his wheezy autograph request.
"I told you," replied Abacus in my ear. "Doyle is the captain. He wouldn't betray his own people."
"You're right, it doesn't make sense. Now that I think about it, he was the one who taught us how to pull off the Pizza Slice Attack and the Defensive Burger Block."
"Exactly," said Abacus. "He's put in a lot of work grooming the team. You need to start looking at his go-to guy."
"Stu?" I asked.
"Yeah. The man's close enough to the captain to know crucial information, while also maintaining the appearance of a friend. He fits the profile."
I started the car. "You're right."
"Is he at Olilolo?" asked Abacus.
"Not right now. He works in the field, investigative reporting, you know."
"Of course. Let me know what you find out."
"I will," I replied, planting my foot. As I zoomed past the security guards, I crowed: "See you later, dongs!"
"Er, right," replied Abacus, hanging up.
* * *
TO BE CONTINUED in A Sasquatch Mystery: Part 3…